Edora Pool Ice Center (EPIC)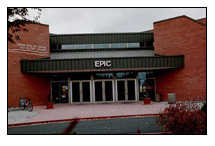 1801 Riverside
PH: (970) 221-6683

Edora Pool Ice Center, also known as EPIC, is the regions premier ice and aquatics facility. EPIC serves the entire community with a variety of ice skating and aquatics programs, classes, events and activities. EPIC experiences over one million visits per year. EPIC is home to the CSU Hockey and Water Polo Teams as well as the Fort Collins Area Swim Team (FAST) and Fort Collins Figure Skating Club.
Features:
Indoor 50-meter x 25-yard pool
Two 3-meter and two 1-meter diving boards
Separate warm water pool and wading pool
Two indoor 200' x 85' ice surfaces
Spectator seating
Cardio/weight room
Concessions
Multi-purpose room and skate service room
The 2015 Short Track Open skates into EPIC on Octoebr 17. A free speed skating clinic will be hosted by 2 time USA Olympian and 2 time USA all-round champion, Jondan Trevena. The free clinic will begin at 9:30 AM. Register for the free clinic by completing the form below.
At 11:15 AM a Short Track Race will take place for all skill levels and ages. Call 221.6683 to register or complete the registration form below.
EPIC Main Pool moves to Long Course Fridays starting 9/18
Beginning on Friday, September 18, the EPIC main pool will be in Long Course Meters all day on Fridays and from 8:00-9:00 a.m. on Saturdays. This will continue throughout the fall and winter seasons.
Silver Sneakers Accepted at EPIC
EPIC is now a participating location for Silver Sneakers members. The Healthways SilverSneakers Fitness Program allows qualified patrons free use of weight/cardio room and unlimited SilverSneaker fitness classes and a 70% discount of desginated fitness classes! See the front desk at EPIC for more information.
Adult Supervision
Children under the age of 8 must be accompanied by a responsible adult in the pool. The adult must pay admission, be wearing a swimsuit, and actively participating in the water with the child and must be within an arm's reach of the child or children. Children under 13 years of age must be accompanied by a responsible adult in the warm water pool and must be within an arm's reach of that adult. The warm water pool will be closed to drop-in Mondays and Wednesdays beginning May 31 through August 4 from 8:30-11:30 AM due to class scheduling. Please check at the front desk for closure times.
User Groups
Swim Side
FAST (Fort Collins Area Swim Team): Phone: 970.372.2744
Fort Collins Diving Club: Phone: 970.218.5142
Team Vortex
Ice Side
CSU Hockey
Fort Collins Adult Hockey
High School Hockey
Northern Colorado Youth Hockey
Fort Collins Ice Skating Club
Womens Hockey