Edora Pool Ice Center (EPIC)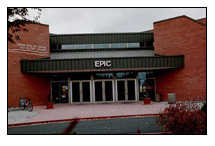 1801 Riverside
PH: (970) 221-6683
Cityline: (970) 416-2489 code 6679

Edora Pool Ice Center, also known as EPIC, is the regions premier ice and aquatics facility. EPIC serves the entire community with a variety of ice skating and aquatics programs, classes, events and activities. EPIC experiences over one million visits per year. EPIC is home to the CSU Hockey and Water Polo Teams as well as the Fort Collins Area Swim Team (FAST) and Fort Collins Figure Skating Club.
Features:
Indoor 50-meter x 25-yard pool
Two 3-meter and two 1-meter diving boards
Separate warm water pool and wading pool
Two indoor 200' x 85' ice surfaces
Spectator seating
Cardio/weight room
Consessions
Multi-purpose room and skate service room
Looking for a great summer job or a challenging career? Being an American Red Cross Lifeguard or Swim Instructor is the best place to start!
EPIC Competition Pool moves to Long Course on Saturdays from 8:00-9:00 a.m.
Beginning this Saturday, April 12, the EPIC competition pool will be in Long Course Meters from 8:00-9:00 a.m. every Saturday through August 2014. Two 50 meter lap lanes will be available to the public during this time. Each lane should comfortably fit 8-10 lap swimmers.
At 9:00 a.m. the bulkheads will be moved back to the usual 25 yard configuration.
Entire Pool
4/20, Closed
4/26, Diving Well Closed from 1:30-3:00 PM
5/2, Close at 2 PM
5/3-5/4, Closed
5/16, Close at Noon
5/17, Closed
5/26, Closed
Diving Well
Monday and Wednesday from 3:30-6:30 PM
Tuesday and Thursday from 5:30-6:30 PM
Therapy/Warm Water Pool
Monday and Wednesday from 8:30-11:30 AM
Ice Arena
January 19, session is 12:15-1:45 PM
April 20, closed
April 25-27, closed
May 26, Memorial Day
Adult Supervision
Children under the age of 8 must be accompanied by a responsible adult in the pool. The adult must pay admission, be wearing a swimsuit, and actively participating in the water with the child and must be within an arm's reach of the child or children. Children under 13 years of age must be accompanied by a responsible adult in the warm water pool and must be within an arm's reach of that adult. The warm water pool will be closed to drop-in Mondays and Wednesdays beginning May 31 through August 4 from 8:30-11:30 AM due to class scheduling. Please check at the front desk for closure times.
User Groups
Swim Side
FAST (Fort Collins Area Swim Team): Phone: 970.372.2744
Fort Collins Diving Club: Phone: 970.218.5142
Team Vortex
Ice Side
CSU Hockey
Fort Collins Adult Hockey
High School Hockey
Northern Colorado Youth Hockey
Fort Collins Ice Skating Club
Womens Hockey